About the Project
From a total of 18 units with layouts of 1 room+kitchenette and 2 rooms+kitchenette you can easily choose the right one for you. Whether it's a top floor unit with a terrace, a basement unit with a front garden, or somewhere in between is up to everyone. As these are mostly the units which are yet to be reconstructed, everyone gets the opportunity to create a home in their own style, or the ideal apartment for investments. Thanks to a common garden, all residents of the five-storey residential house will also get space to relax in the fresh air, hang out with friends and to enjoy a gourmet experience or gardening. They will also be able to use their own cellar stall. What more could you ask for?
The area in which the house is located boasts of perfect civic amenities, excellent infrastructure and fantastic traffic services, whether you are heading downtown or out of Prague. In ten minutes you can walk to the metro stations called Budějovická or Pankrác on the other side. Right in the neighbourhood of the house, there is a cultural and technical monument of Michelské vodárny designed by the famous architect Jan Kotěra.
1. Floor below ground 1. Floors above ground units available: 7
Location
The location has a huge potential for a happy life of singles and young couples alike. And through living in the Hanusova Residential House you can easily fulfil it. You can find a wide range of restaurants, cafés and pleasant businesses between the Budějovická and Pankrác metro stations. The shopping and entertainment centre Arkády Pankrác, the DBK shopping centre or the Bauhaus do-it-yourselfer's paradise are accompanied here by other shopping opportunities, service establishments, medical facilities, schools or sports grounds. The house is about 5 km far from Žluté lázně (Yellow Spa), a legendary sports and recreation area on the bank of the Vltava River with plenty of restaurants.
Need to go downtown? Jump on the metro train or bus – the Budějovická, Zelená liška and other stops are located nearby. You can reach the Podolské nábřeží street entrance by car in a few minutes. It also takes a while to reach the 5. května street entrance with the highway connection.
DBK shopping centre
10 min
Metro C
Budějovická, Pankrác
10 min
Podolí aqua park
8 min
Žluté lázně
4 km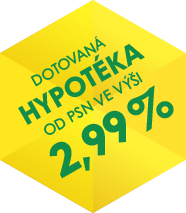 Purchase and Financing
Financing
Successful long-term cooperation of our company and Hypoasistent s.r.o. in financing the sale of units to be owned by clients allows us to provide also you with a unique offer to finance the purchase of an apartment in the Hanusova Residential House. Hypoasistent is a contractual partner of 16 banks and in cooperation with them provides individual discounts on interest rates and fees, tailored to everyone's needs.

— FREE preparation of mortgage loan
— FREE preparation of property estimate

Information for Foreign Clients
The restriction on the purchase of apartments to be owned by the clients from countries that are not EU member states is no longer in force. Foreign clients can now also buy an apartment as a private individual.
1
Orally made reservation
2
Agreement on Reservation and Preliminary Purchase Agreement
3
Purchase Agreement
4
Handover of the unit
YOUR QUESTIONS
Are you interested in a specific apartment or do you need answers to any question? Please contact our team of experienced real-estate brokers who will provide you with full services.